Mindvalley has been a game-changer in my personal and spiritual growth journey. Catering to individuals seeking to evolve beyond traditional learning, Mindvalley offers a unique blend of programs that cultivate well-being, foster self-improvement, and nurture life-long learning. I've watched them grow from a few courses to a comprehensive catalog of life-changing courses in various categories, such as personal growth, spirituality, health and wellness, relationships, and more.
Unleashing the Power of the Mind
Mindvalley's programs fall under several intriguing categories, including mind, performance, body, relationships, soul, and work. Each category houses multiple courses designed and delivered by industry pioneers and thought leaders.
From understanding the human mind's potential to harnessing the power of meditation for personal transformation, Mindvalley opens a gateway to limitless possibilities.
In short, Mindvalley expands your consciousness and helps you grow in a multitude of ways.
Personalized Learning with a Community Touch
What sets Mindvalley apart from other online learning platforms is its emphasis on creating an active and supportive community of learners. This has just been added in the last few years, and it doesn't just give you connection with others, it gives you ideas and insights from like-minded people.
The forums and discussions allow you to connect with like-minded individuals and share your experiences, challenges, and growth.
I've found the community aspect of Mindvalley to be particularly enriching. It has given me a safe space to express myself, ask questions, and receive valuable feedback from others on similar journeys.
My Personal Experience: Growing With Mindvalley
I've been with Mindvalley for years. I've been fortunate to experience several courses that have significantly impacted my life.
This entire website, Subject Of Life, is based around the Lifebook principle: envisioning and working towards a life that aligns with your values and beliefs.
While Lifebook is one of top courses on Mindvalley, there are other courses that I've enjoyed:
Superbrain – Learning how to learn with Jim Kwik has been a game-changer for me. It's helped me overcome my limiting beliefs and achieve professional success.
Energy Medicine – This course introduced me to the world of energy healing, and I've seen tremendous improvements in my overall health and well-being since then.
Duality – This course provided me with a spiritual perspective on life and helped me find inner peace and balance between my physical and non-physical self.
Silva UltraMind – This course has helped me tap into the power of mind and do things I never thought were possible. It's a true testament to the mind's capabilities and how we can harness it for personal growth.
All of these courses (and so many more) have contributed to my personal growth and have been worth every penny. Not only did they provide knowledge, but they also gave me a supportive community that continues to inspire me daily.
Who Is Mindvalley For?
Mindvalley is for anyone who aspires to elevate their personal growth journey and thrive in multiple facets of life.
Whether you're a college student seeking to expand your knowledge beyond academics, a working professional striving to maximize your potential, or a retiree aiming to enrich your life with new learning, there's something for you on Mindvalley.
For example, if you're in the corporate world, courses like "Superbrain" can help you enhance your productivity and cognitive prowess.
For those who are exploring spirituality, courses like "Duality" offer profound insights into the spiritual dimension of life.
And for those who want to invest in their health and wellness, the "Energy Medicine" course can be a game-changer.
Moreover, Mindvalley isn't limited to individuals; it's also a fantastic resource for organizations aiming to foster a culture of continuous learning and personal growth among their teams. Businesses can leverage Mindvalley's programs to build resilient, creative, and holistic leaders who can drive the organization forward.
Who Is Mindvalley Not For?
While Mindvalley caters to a broad range of individuals, there are some who may not find it suitable for their needs.
For example, if you're not open to exploring new ideas and challenging your current beliefs and perspectives, Mindvalley may not be the right fit for you.
Additionally, if you prefer traditional classroom-style learning or want a quick fix solution for personal development, then Mindvalley may not be the best option.
The Best Things About Mindvalley – Benefits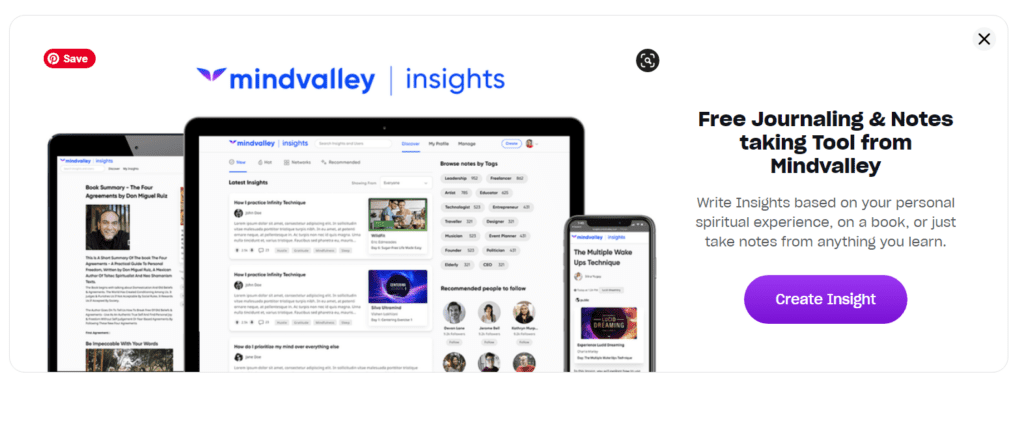 One of the best things about Mindvalley is its eclectic range of courses and programs that cater to various aspects of personal growth. From improving mental performance to spiritual exploration, there's something for everyone on Mindvalley.
The quest formats – Mindvalley's courses are designed in a way that makes learning engaging, interactive, and fun. The mix of video lessons, quizzes, challenges, and community discussions keeps you invested and motivated to continue your personal growth journey.
The diverse community – Mindvalley's courses attract people from all walks of life, creating a vibrant and supportive community for individuals to learn and grow together. This sense of belonging and connection with like-minded individuals is a significant advantage of being a part of the Mindvalley community.
The personal touch – One of the standout features of Mindvalley is that it's not just about learning from experts; it's also about learning from their own experiences. The courses often involve sharing personal stories, struggles, and breakthroughs, which adds a genuine and relatable touch to the learning experience.
The transformational impact – Mindvalley's courses have the power to transform your life in ways you never thought possible. By diving into topics like mindfulness, intuition, emotional intelligence, manifestation, success, and spirituality, you'll gain a deeper understanding of yourself and how you can improve various aspects of your life. Many individuals have shared how Mindvalley courses have had a positive and lasting impact on their personal growth journey.
The Mindvalley Membership
Years ago, you used to be able to buy the Mindvalley courses individually, but now they are all part of the Mindvalley Membership.
The Mindvalley Membership is your all-access pass to the plethora of courses that Mindvalley offers. Instead of purchasing courses individually, you pay a yearly fee to gain unlimited access to the vast library of quests and masterclasses.
The cost of the membership is $499 per year, which is a steal considering the breadth and depth of content available at your fingertips.
The membership offers unparalleled value. It allows you to explore a wide array of topics at your own pace, and you're not limited to just one course. From personal growth to career success, you can dive into any area you're curious about. It's an investment in lifelong learning and self-improvement.
Moreover, the Mindvalley Membership grants you access to exclusive live calls with the quest authors, where you can engage in deep discussions, ask questions, and gain insights straight from the experts.
You also become part of the global Mindvalley Tribe, a diverse community of learners and change-makers from around the world.
In essence, the Mindvalley Membership is more than just an educational subscription. It's an investment into your growth, transformation, and the realization of your fullest potential.
As a long-time member myself, I can vouch for the tremendous value it has brought into my life. It has helped me grow personally and spiritually, and the courses have introduced me to concepts and practices that have fundamentally shifted my perspectives and enriched my life experiences.
Is Mindvalley A Scam?
This is a common question that pops up when people come across Mindvalley for the first time. And the answer is a resounding no! Mindvalley is not a scam.
Mindvalley is far from a scam – it's a legitimate educational platform that offers transformative courses curated by some of the world's leading experts in diverse fields.
Each course undergoes a rigorous selection and creation process, ensuring that members receive content of the highest quality.
Payment processes are transparent and secure, and the company is known for its outstanding customer support.
Moreover, it offers a 15-day money-back guarantee, allowing you to explore its courses risk-free.
Having personally taken several Mindvalley courses, I can attest to the positive changes they brought in my life and mindset. This isn't just a platform for learning; it's a community dedicated to helping its members evolve, grow, and thrive.
Does Mindvalley Offer Free Courses?
While Mindvalley does not typically offer entire courses for free, there are free masterclasses available. These sessions serve as comprehensive introductions to the full courses, giving prospective students a taste of the curriculum, teaching style, and potential benefits they can expect. They are an excellent way to get acquainted with a subject before deciding to invest in the full quest.
But Mindvalley isn't just about quests. It provides a holistic ecosystem for personal and spiritual growth, offering a range of services beyond its paid courses. There's a thriving community of like-minded learners where you can share experiences, insights, and support. There are also insightful blog articles, podcasts featuring industry experts, and live events that provide an immersive learning experience.
You also have access to Soulvana, Mindvalley's spiritual sister platform, which offers meditations, workshops, and courses on mindfulness, intuition, manifestation, and more. This brings a unique angle to the personal development journey and allows for a well-rounded approach.
Top 7 Courses On Mindvalley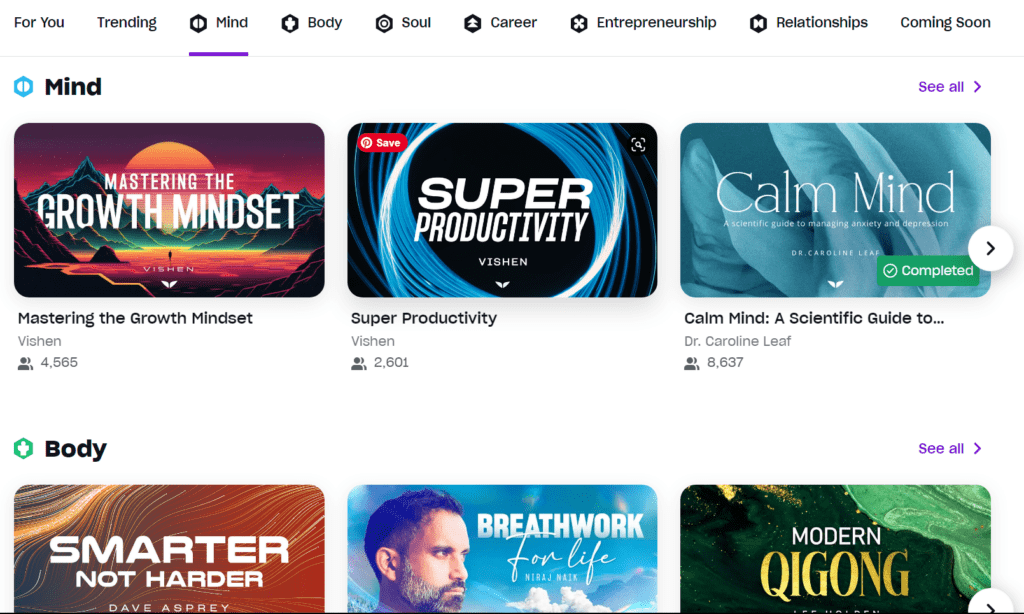 Everyday Bliss: A quest by Paul McKenna that teaches practical techniques for lasting happiness and fulfillment.
Money EQ: Discover the mindset and habits necessary to create wealth and abundance in all areas of your life.
Superbrain by Jim Kwik: Superbrain is all about unleashing the full potential of your brain. It teaches techniques for speed reading, memory enhancement, and optimal brain performance. I found this course incredibly valuable for my professional and personal life, as it has tremendously improved my learning ability and mental agility.
The Silva Ultramind System by Vishen Lakhiani and Jose Silva: This course is designed to help you tap into your inner intuition, healing, and manifesting abilities. After this course, I found myself more attuned to my intuition and capable of manifesting my desires more powerfully.
Becoming Limitless by Vishen Lakhiani: Vishen takes you through a journey of personal growth, urging you to transcend traditional methods of living and thinking. This course impacted my thinking profoundly and encouraged me to challenge and overcome my limiting beliefs.
Uncompromised Life by Marisa Peer: Marisa Peer, a renowned hypnotherapist, teaches you how to overcome your insecurities, fears, and self-imposed limitations. This course has helped me develop a more positive self-image, enhanced my confidence, and improved my emotional well-being. The best part? It's all done through the power of hypnosis.
Duality by Jeffrey Allen: This course delves into the concept of duality and how to balance your physical and spiritual self for a more fulfilling life. Through this course, I learned how to better connect with my spiritual side and find inner peace, leading to greater clarity and purpose in my daily life.
Sixth Sense Superpower by Sonia Choquette: This course is all about developing your intuition and tapping into your sixth sense for a more fulfilling, spiritual life. Through Sonia Choquette's guidance, I have become more in tune with my inner voice and have been able to make decisions that align with my true desires and purpose.
What's Not Included In The Mindvalley Memerbship
While Mindvalley offers an extensive range of courses, it's worth noting that certain programs are not included with the Mindvalley membership.
For instance, Lifebook Online by Jon & Missy Butcher and WildFit by Eric Edmeades are premium courses and require separate purchases. These courses are comprehensive and are hence priced differently.
This is not necessarily a drawback, as these premium courses offer a deep dive into their respective subjects, providing immense value that goes beyond the scope of the regular courses.
In my personal experience, investing in these premium programs has always paid off in terms of the growth and value I've received, but the Mindvalley Membership is worth it on it's own regardless.
Is The Mindvalley Membership Worth It?
In my personal opinion, absolutely.
Mindvalley's courses and community have had a profound impact on my personal growth and development journey. The combination of practical knowledge, actionable steps, and a supportive community has helped me make positive changes in various aspects of my life.
Mindvalley is always adding new courses and programs to their platform. It's exciting to see what's coming up and know that you will soon be improving another area of your life.
Mindvalley's courses are taught by some of the most renowned experts in their respective fields, ensuring high-quality content.
Moreover, the flexibility to learn at your own pace and choose from a variety of courses and topics is a huge plus. I've taken courses on productivity, mindset, and spirituality, and each one has left me with valuable insights and tools that I continue to use in my daily life.
So, whether you're looking for personal or spiritual growth, Mindvalley offers a diverse range of programs that cater to different needs and interests. And with their 15-day money-back guarantee, you have nothing to lose and everything to gain by giving it a try.